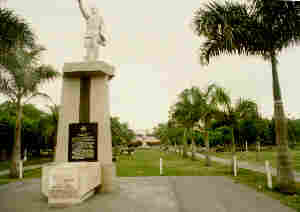 The photo at left is a statue of General Paulino Santos. This is located in the center of General Santos City.
General Santos City's history dates back to the turn of the 15th century when Sariph Kabungsuan of Arabia arrived in Cotabato Province in Mindanao to introduce Mohammedanism with the help of his religious teachers. He reigned as the Sultan of Mindanao until the early part of the 20th century when the Americans came.
In 1914, the first batch of Christian migrants settled in Glan along Sarangani Bay and peacefully intermingled with the province's ethnic inhabitants, namely the Muslims, Manobos, B'laans, Tagabilis and other native groups. In 1920, the first Ilocanos reached Kiamba on the opposite side of the bay.
Almost two decades after, in 1938, Cotabato's vast lands and rich marine resources caught the attention of General Paulino Santos, Sr. who was then helping Pres. Manuel L. Quezon shape a social justice program for Filipino farmers.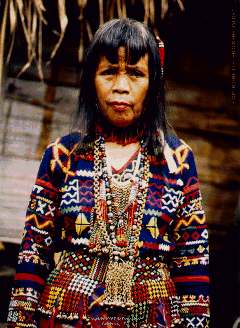 The photo at right is a Blaan lady. The Blaan tribe has been in this part of Mindanao for many Centuries.
On February 27, 1939, General Paulino Santos led the first and largest batch of settlers organized under the National Land Settlement Administration to the shores of Sarangani Bay. The 62 pioneers who mostly came from Luzon industriously tilled Cotabato's fertile expanse of land. After this first influx of pioneers, thousands more from Luzon and Visayas migrated into the area.
In January 1948, by virtue of Republic Act No. 82, Buayan District became a full fledged municipality whose territorial boundaries included the present municipalities of Sarangani and South Cotabato Provinces, namely Alabel, Glan, Malapatan, Malungon and Polomolok. NLSA Hospital Administrator Irineo I. Santiago became its first mayor.
Six years later, in June 1954, the Municipality of Buayan was renamed General Santos as a tribute to its great pioneer. This was made possible by Republic Act No. 1107 authored by Congressman Luminog Mangelen of Cotabato Province.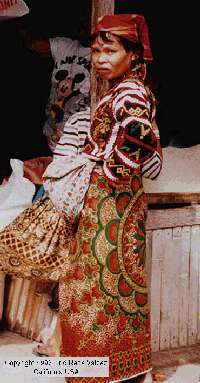 From 1963 to 1967, during the incumbency of Mayor Lucio A. Velayo, an upsurge in the municipality's economy was experienced as several large agri-based corporations such as Dole Philippines, General Milling Corporation and UDAGRI expanded into the area. Although it was then qualified to become a fourth class city, the residents rejected a move by Congressman Salipada Pendatun to convert General Santos into a city and to rename it Rajah Buayan.
Finally, however, on July 8, 1968, upon approval of Republic Act No. 5412, the Municipality of General Santos was converted into a city while keeping its name. It was inaugurated on September 5 of that year. Antonio C. Acharon became its first city mayor. In 1988, two decades after its inauguration, it was declared as a highly urbanized city.
Currently, General Santos City has 26 barangays. It belongs to the First Congressional District of South Cotabato and is one of the three chartered cities of Region XI.